Travel to
Paris

: Cheap trains, buses and flights
Easy as 1, 2, 3
Choose the cheapest and fastest routes from over 800 official partners
Get there your way
Enjoy travelling by train, bus and flight across Europe
Every time, anywhere
Because your trip doesn't end with a ticket, we're here for you all the way
Quick Guide: Traveling to
Paris
Top Attraction:
The Eiffel Tower
&nbsp
Free things to do in Paris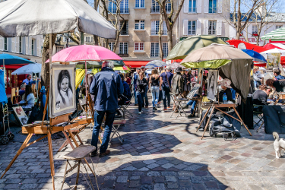 Montmartre
The pseudo-Parisian village of Montmartre has everything from bars and food to the overgrown cemetery and vintage shops, particularly if you avoid the over crowded Place du Tertre where the majority of people congregate. The view is pretty great from the top, but don't ignore the, arguabley more interesting, nooks and crannies!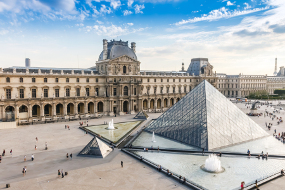 Musée d'Art Moderne de la Ville de Paris
Upon first sight, the facade of this museum is pretty imposing and something you'll probably all recognise. However, the impressive works of art you'll find inside are just as much of a treat with works of art by Delaunays and Fautrier with styles that range from art deco to cubism.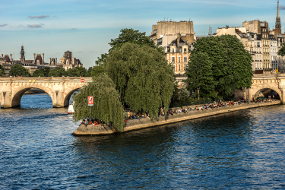 Square du Vert-Galant
For a little taste of the bohemian feel of the Paris of the 1920's then Square du Vert-Galant is the cloest you're gonna get! It's located on the western tip of the Île de la Cité surrounded by water and in the summer you'll find people chilling on the grass, watching the boats go by.
Looking for something else?
Buses to Paris | Trains to Paris | Flights to Paris
&nbsp
About Paris
Paris is one of the most popular tourist destinations in the world. It is internationally recognized as a city of romance and culture, with stunning architectural features such as the Eiffel Tower and the Arc de Triomphe. Many tourists also come for the food, with hundreds of high-quality restaurants serving traditional French food. Strolls along the Seine river are just one of the thousands of little pleasures Paris offers among its more major attractions. Although the Mona Lisa may appear to be Paris' headlining act in a grand splendor of magnificent artwork and majestic museums, it's the city's bohemian atmosphere, creative influence and one-of-kind architecture that truly makes Paris a destination worth visiting.
Travelling to Paris
Flights- There are two main airports in Paris for those wishing to travel to Paris by plane: Charles de Gaulle Airport, and Orly airport. Charles de Gaulle Airport is the largest and most popular, with international and domestic flights leaving every few minutes. Charles de Gaulle Airport is situated around 35.6 km from the center of Paris. It is easy to reach Paris from the airport. Trains and buses leave the airport regularly, and taxis and hire cars are available.
Train - There are several large train stations in the center of Paris. Both local and national trains arrive with regular services throughout the day and evening. The main station in Paris is Gare du Nord. From there is it easy to get a train to other areas of Paris, or to take the subway to other areas of the city. Taxis can also be found outside the station, as well as various bus services.
Bus - For international tourists to wish to travel to Paris by bus, they are likely to arrive at the Paris-Gallieni bus station, which is located in Bagnolet in the east of Paris. From here, travelers may need to take a connecting bus service to the center of Paris. There are also several large bus terminals around the city that serve the Paris area.

Day trips near Paris

Are you in need of some inspiration for short trips while your traveling in Paris Then you've come to the right place! Check out our map below for some nice and easy day trips near Paris. And best of all, they're cheap!




The journey prices were taken on GoEuro.com on the 7th November 2017 for a one way ticket one month in advance of the trip. The prices may be subject to change.

The prices were taken on the 21st November 2017 originally in euros and converted into the applicable currencies for each country.





Montmartre to Le Marais: The Best Areas to Stay in Paris

Whether it's your first trip to the French capital or the hundredth, there's no doubt that picking a place to stay in Paris can be puzzling. With twenty districts of Paris (locally called arrondissements) each offering visitors a different experience, it's hard to decide which is the right one for you.

We wanted to make that decision a little easier! We've done the research, selected and divided the neighborhoods of Paris into groups so you can choose which one suits your trip best.

Montmartre

Once the breeding ground for children of the revolution, Montmartre oozes an unbeatable bohemian vibe that will inspire anyone to write a late-19th-century romance novella between a penniless writer and a courtesan. There are pockets of the neighborhood which scream tourism, but do your research properly and you'll be alright.

Port Royal

Paris' most liminal neighborhood. People tend to forget about this often unentertaining, yet beautiful arrondissement. However, this makes Port Royal at any visitor's advantage because of its central and well-connected location. Let's face it – it's Paris. You're not going to spend much time in your bed are you? We thought so.

Père Lachaise – Ménilmontant

Grab a piece of authentic Paris. The avenues here are not filled with Dior clothes or Cartier watches, but family-owned brasseries and petite boutiques. This slower side of Paris compels one to believe Paris isn't just a crush of tourists and overpriced restaurants. Making it the best area of Paris for those who enjoy portrait photography.

Not to forget that this area is home to the world's most famous cemetery, where legends like Oscar Wilde, Jim Morrison and Molière rest. Here you fall victim to one of Paris' most stunning panoramic views.

Saint-Germain des-Prés-Odéon

Cool, clever and couture. If you care to stock pile your Instagram collection full of perfectly baked pain-au-chocolaits, couture windows and classic Parisian architecture, then this is best area of Paris for you. Considering it is pricier than previously mentioned neighborhoods, what you pay extra for it the ultimate Parisian vibe.

Tour Eiffel – Champ de Mars

Ok so this one is obvious, but if it's the main sights of Paris you want to catch on camera, this is the best district for you to stay in. Yes it may be showered with tourists, but I find that no matter how many people you're surrounded by, it never spoils the view of the Eiffel tower, from any angle.

Palais Royal

A central area of Paris which perspires a low-key ambiance of class. Delved in refined wine bars, boulangeries, and the tranquil Palais Royal gardens, if you desire tranquility away from hustle and bustle of hotspot tourist zones, Paris Royal is your nirvana.

Champs-Élysées

Little known fact that the Champs-Élysées is a thriving district of Paris, and not just a remarkably beautiful boulevard. If you're looking to skip from Dior to Gucci, then of course, this area is perfect for you.

Although, I heavily advise taking a stroll of the world-known boulevard to explore the lesser know streets aligned with local bars and historic hubs.

Louvre-Tuileries

Some describe this area to be Paris' most stunning neighborhood, with amenities including the Louvre, the Jardin des Tuileries and on-looking the Seine who can blame them eh? Indulge in evening drinks at the Le Meurice Hotel rooftop terrace, featured in Woody Allen's 'Midnight in Paris', as you watch the 'City of Light' come to life.

Le Marais

A favorite neighborhood among locals and visitors, Le Marais boasts a glowing reputation compared to its sibling arrondissements. Not because the others are awful, but Le Marais is filled to the brim with street art, diversity, culture, history and atmosphere, making it Paris' 'It' neighborhood.

I have never met a soul who did not love getting lost in the twirling cobble stoned streets, exploring its antique markets and loving its diverse street food.

Châtelet – Les Halles – Beaubourg

Between the largest Museum of Contemporary art in Paris (Centre Pompidou), a fruitful array of vintage clothes stores, and an endless amount of parks to perch after a long day of sight-seeing this area of Paris is perfect for those looking to sample the bohemian lifestyle. Warning: as this area lacks a bit of life throughout the day, its evening shenanigans make up for its daylight short-comings. Be prepared to spend your evenings hopping from bistro, to terrace to small cafes, indulging in regional wine and local chatter.

Latin Quartier

Find yourself with snuggling up in one of the Latin Quartiers cosy bars reading a first edition copy of Ulysses you picked up while browsing in the original 'Shakespeare & Co. bookstore. What attracts the thinkers, travelers and literary enthusiasts of the world to this Parisian neighborhood is this French fantasy, and boy it is the perfect place to indulge in it.
We've sent you a confirmation email.
Please click the link inside to complete the process.