Traveling by Train in Europe
Schedules, Tickets and Provider Information
Easy as 1, 2, 3
Choose the cheapest and fastest routes from over 800 official partners
Get there your way
Enjoy travelling by train, bus and flight across Europe
Every time, anywhere
Because your trip doesn't end with a ticket, we're here for you all the way
Trains in Europe
Everything you need to know about European trains
Trains in Europe
Europe's excellent rail infrastructure has made train travel one of the most popular transportation modes throughout the continent. Train travel in Europe is very convenient not only for quick jaunts to nearby cities but also for longer-distance international journeys. Most major cities in Europe are connected by high-speed train routes. From popular destinations and travel itineraries to information about train companies and how to buy cheap train tickets, this page provides an overview of everything you need to know about trains in Europe. If you are planning on taking multiple train trips you can also select a Eurail pass which offers a variety of European train travel options.
Does train travel save you more time than flying?
We often assume that flying will be quicker (and probably cheaper) than taking other modes of transport. That's why we've researched the top routes across Europe to see if this is in fact the case. We found that 35 routes are actually faster by bus or train than flying and of course, it's the greener option too!* One of the biggest time-saving routes is taking the train from Brussels to Paris, saving you almost three hours journey time over flying. From Paris, you can then save yourself a further hour and a half by taking the train to Lyon instead of traveling by air.
*When researching we took into account the time you need to be at the airport before a flight, and the time to get through security.
Top 5 International Routes that are Faster by Train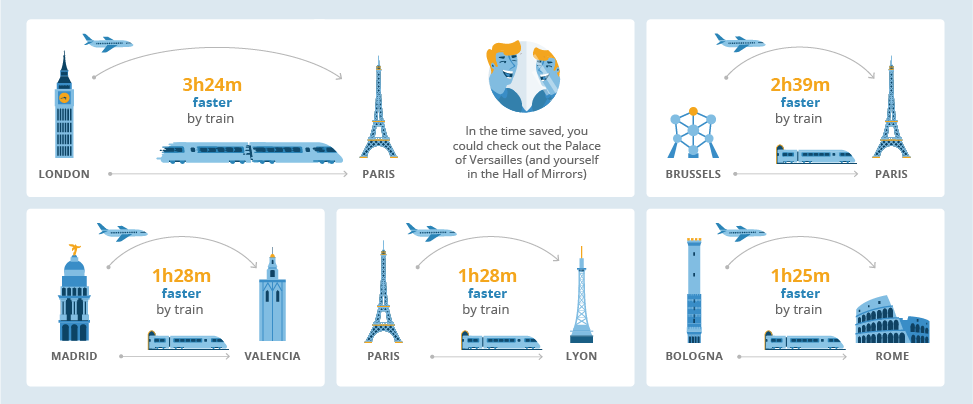 All Rights Reserved. GoEuro must be credited when sharing the table.
Top 3 Train Routes between European cities
It might seem that flying across coutries such as Spain and Italy is faster than getting the train but in the case of getting from Barcelona to Madrid, it is actually 1 hour and 15 minutes quicker to go by rail. The route from London to Amsterdam is one of the most surprising time savers, giving you an extra 49 minutes to explore the city's canals once you disembark the Eurostar.

All Rights Reserved. GoEuro must be credited when sharing the table.
Top 3 International Routes that are Faster by Bus
More surprisingly, there are also some bus routes that beat flying across Europe. Taking the bus from Amsterdam to Brussels or Düsseldorf are both quicker options than than flying, so if you're doing some traveling this summer, make the most of your time and be wise when picking transport modes.
All Rights Reserved. GoEuro must be credited when sharing the table.
Did you know these facts on European Train Travel?
If you're looking to reduce your carbon footprint, but also don't want to miss out on summer holidays, then going from Florence to Naples is a great choice as Europe's greenest high-speed train route!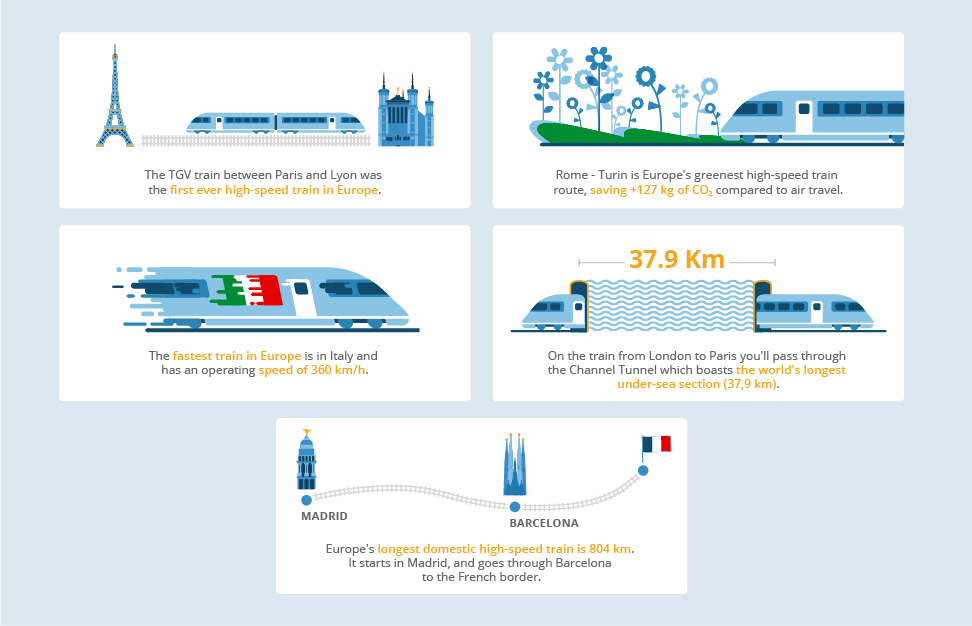 All Rights Reserved. GoEuro must be credited when sharing the table.
Train, Bus and Flight: International Route Comparison
The chart below shows the top 10 relevant routes across Europe. A few that will save you the most time are London to Manchester and Milan to Rome, which is also much more scenic than flying. If you're into being as green as possible, click on the Carbon Dioxide tab to see how much you'll save. Taking the train instead of the plane from Brussels to London will save you more than 100kg of Carbon Dioxide, and even though the bus route is longer from Rome to Venice, you would be much more efficient than other transport modes. Hover over the graph to highlight exact time and modes.
If you're interested in the research we conducted, you can download the full table here.
Popular train routes in Europe
Traveling by train is one of the nicer way to explore what Europe has to offer. Getting an Eurail rail pass can make your trip much simpler especially when there are so many great train routes to chose from.
Day trips in Europe
Are you planning to travel while in Europe? If so, check out the interactive map below with the best day trips and weekend getaways from Europe's most popular cities by train and bus.
The journey prices were taken on GoEuro.com on the 7th November 2017 for a one way ticket one month in advance of the trip. The prices may be subject to change.
The prices were taken on the 21st November 2017 originally in euros and converted into the applicable currencies for each country.
Train Companies in Europe
Everything you need to know about European Train Travel
Taking the train is a great alternative to flying in Europe: seats are generally spacious and comfortable, boarding avoids the long waits at airport security, and it lets you view the picturesque landscapes of the regions you travel through - from the snow-tipped Swiss Alps to the rolling green hills of Spain's Basque Country. Additionally, most main train stations in Europe are located in the city center, saving you potentially expensive cab rides to and from the airport.
Train service, speed, and prices vary considerably depending on country; Western Europe tends to operate more modern, high-speed trains, while Eastern European trains can be less frequent but also tend to have far cheaper ticket prices. Train ticket prices can fluctuate considerably, so it's best to book your train tickets as far in advance as possible.

ÖBB: ÖBB or Austrian Federal Railways is Austria's national train company. In addition to numerous cities in Austria, ÖBB also travels to select destinations in Germany, Hungary, Italy, Switzerland and the Czech Republic.

Westbahn: Westbahn operates one train route between Vienna and Salzburg. Westbahn trains run every hour and stop at Wien Westbahnhof, Wien-Hütteldorf, St. Pölten Hbf, Amstetten, Linz Hbf, Wels Hbf, Attnang-Puchheim and Salzburg Hbf.

SNCB: In addition to servicing domestic destinations, Belgium's national train company also operates 4 high-speed international train routes: from Brussels to Paris Nord or Lille Flandres train stations in cooperation with SNCF; from Leuven to Ans; from Liège to the German border; and from Antwerpen-Centraal to Rotterdam Centraal train stations.

České Dráhy: Often abbreviated ČD, České Dráhy is the Czech Republic's main train company. České Dráhy operates both regional and long-distance train routes throughout the Czech Republic.

SNCF: SNCF operates all of France's national rail services including the high-speed TGV network. More than 800 high-speed SNCF trains depart every day. SNCF's TGV trains carry over 100 million passengers every year.

Deutsche Bahn: Germany's national train company is the largest in Europe, transporting approximately 2 billion passengers per year. Deutsche Bahn's high-speed Intercity-Express (ICE) trains connect major cities in Germany as well as some select international destinations in Belgium, Switzerland, Austria, France, Denmark and the Netherlands.

Italo: Italo is a privately-owned high-speed train company that connects 16 train stations in 13 Italian cities. Italo operates 3 high-speed train lines through Italy: from Verona to Naples (via Bologna, Florence, and Rome); from Venice to Salerno (via Padua, Bologna, Florence, Rome, and Naples); and from Turin to Salerno (via Milan, Reggio Emilia, Bologna, Florence, Rome, and Naples).

Trenitalia: Owned by the Italian government, Trenitalia is Italy's main train company. Trenitalia offers both regional and long-distance routes as well as international connections to select destinations in France, Germany, Austria, and Switzerland.

NS: Nederlandse Spoorwegen or NS is the main train company in the Netherlands. NS runs 4,800 domestic trains in the Netherlands every day, serving approximately 1.1 million passengers.

Renfe: Renfe Operadora is Spain's national train company. Renfe's high-speed AVE trains travel up to 350 km/h and connect Madrid with other major cities in Spain including Seville, Barcelona, Valencia, Toledo, Cordoba, and Malaga.

SBB: Swiss Federal Railways (or SBB) is Switzerland's national rail company and operates the majority of national and international train traffic. SBB also operates international EuroCity and EuroNight trains in Switzerland.

SJ: SJ is Sweden's main train company, which has been around for over 160 years. Over 130 000 people travel with SJ from over 275 stations in Sweden ever day. SJ also travels internationally to other Scandanavian cities including Oslo and Copenhagen.

Abellio Greater Anglia: : Abellio Greater Anglia Trains succeeded National Express in 2012 as Eastern England's primary train company. Abellio's train network covers Norfolk, Suffolk, Essex, Cambridgeshire and parts of Hertfordshire.
Arriva Trains Wales: Arriva trains operate on 5 routes: between the Midlands and Northern Wales, between South Wales and Northern Wales/Manchester, along the South Wales Coast Line to Cardiff and Swansea, along the North Wales Coast Line to Crewe and Manchester, while also operating a network of commuter train lines in and around Cardiff.

C2C: c2c is predominantly a London commuter railway, providing services along the London, Tilbury and Southend Railway line, from London Fenchurch Street to East London and along the southern part of Essex. Trains depart along the main route from Fenchurch Street to Shoeburyness around 8 times each hour during off-peak times.
East Midlands Trains: East Midlands Trains operates two types of trains: long-distance trains connecting London St Pancras train station with destinations throughout the UK and regional trains. East Midlands's regional trains link towns and cities in the East Midlands as well as Central and Northern England. East Midlands trains run between London and Sheffield, York, Derby, Corby, Nottingham, and Leeds.
First Great Western: Great Western Railway is the main train company for the west and south-west counties in the UK including Devon, Somerset, Cornwall, Gloucestershire, Bedfordshire, Wiltshire, and Bristol. Great Western's trains are also available in Wales, focusing specifically on Southern Wales.
First Hull Trains: First Hull Trains operate just one train from Hull to London, which stops at Brough, Howden, Selby, Doncaster, Retford, Grantham, and Stevenage along the way. First Hull's train schedule has grown every year since 2000, with 7 trains currently departing every day.
First Transpennine Express: First Transpennine Express operates intercity trains on 3 main routes across Northern England. First Transpennine Express trains connect Liverpool and Manchester with Leeds, York, Sheffield and Doncaster with as many as 5 trains departing per hour on some of the popular routes.

Merseyrail: Merseyrail operates trains throughout Liverpool, the surrounding area, and the rest of Merseyside. Over 100,000 passengers utilize Merseyrail's network every week with pproximately 800 trains departing every day.
Northern Rail: Northern Rail operates most trains in Northern England between Leeds, Liverpool, Manchester, Newcastle and Sheffield.

Scotrail: Scotrail runs trains throughout Northern England connecting Newcastle and Carlisle with London. The vast majority of Scaotrail trains run between major Scottish cities like Edinburgh, Glasgow, Inverness, Aberdeen and Dundee.

Southern: Southern trains run between London, East and West Sussex, Surrey, Kent, and Hampshire. Popular destinations include Hastings, Lewes, and Southampton. Southern also manages the Gatwick Express which is a 30 minute, non-stop train between London Victoria station and Gatwick International Airport.

South West Trains: South West Trains operates the majority of commuter trains from London Waterloo station to destinations in South West London. Most trains run on an electrified third rail, with diesel engine trains on the West of England line to Salisbury, Exeter, and Bristol.
Virgin Trains: Virgin Trains operates long-distance trains on the West Coast Main Line between Greater London, the West Midlands, North West England, North Wales and Scotland. Virgin Trains connects London, Birmingham, Manchester, Liverpool, Edinburgh and Glasgow.
International Trains in Europe

Eurostar: Journeys from London to other prominent French or Belgian cities will always involve a Eurostar train via the Chunnel under the English Channel. Eurostar trains run between London and Paris, Lille, Lyon, or Brussels. Traveling by the Eurostar from London to Paris or Brussels takes approximately two and half hours.

Thalys: Founded as a partnership between SNCF, SNCB, and Deutsche Bahn in May 1995, Thalys links major cities in Belgium, Germany and the Netherlands by international high-speed train. Thalys trains link Paris, Brussels, Antwerp, Rotterdam, Amsterdam, Liège, Aachen and Cologne.

Lyria: TGV Lyria trains, a partnership between SBB and SNCF, transports more than 4 million travelers per year between France and Switzerland. TGV Lyria operates 6 train routes: between Geneva and Lille, between Geneva and Nice (via Marseille), between Lausanne and Paris (via Geneva), between Lausanne and Paris (via Dijon), between Interlaken and Paris (via Bern, Basel, and Dijon), and between Zurich and Paris (via Basel and Mulhouse).

Thello: Created in 2010 via cooperative agreement between Trenitalia and SNCF, Thello trains link major cities in France with cities in Northern Italy. Thello trains travel to many of the cities on France's Côte d'Azur. Thello offers night trains between Paris Gare de Lyon and Venezia Santa Lucia railway station, which stop at Dijon-Ville, Milano Centrale, Brescia, Verona Porta Nuova, Vicenza and Padova along the way. Daytime trains between Milan and Marseille (via Genoa and Nice) are also operated by Thello.
Deutsche Bahn and Renfe also offer international train routes into countries bordering Germany and Spain.
The United Kingdom introduced train travel to Europe in the wake of the industrial revolution in the early 19th century. This revolution in transportation was followed by BeNeLux, France, Germany, Italy and Spain adding numerous train routes across Europe. Seeing as train innovation tends to begin in Europe and filter out to the rest of the world, it is no surprise that Europe is home to numerous high-speed rail routes.
Most Popular Trains in Italy
Most Popular Trains in Spain
---
Most Popular Trains in the United Kingdom
Most Popular Trains in Germany
Most Popular Trains in France
Most Popular Trains in BeNeLux
Most Popular Trains in Austria
Most Popular Trains in Switzerland
Facilities & Services for Major Train Companies
Many companies operate modern fleets with comfortable, reclining seats, wifi and air-conditioning. Compare the services available.
| | | | | | | | | | |
| --- | --- | --- | --- | --- | --- | --- | --- | --- | --- |
| | Power Outlet | Wifi | Refreshments | Media | AC | WC | Seat Reservation | Luggage | Allows Bicycle |
| Deutsche Bahn | No | No | No | No | No | No | No | No | No |
| Renfe | No | No | No | No | No | No | No | No | No |
| Italo | No | No | No | No | No | No | No | No | No |
| Frecciarossa | No | No | No | No | No | No | No | No | No |
Book tickets from your favourite transport companies

Stay Up to Date
Get travel offers, trip reminders and other updates by email.
We've sent you a confirmation email.
Please click the link inside to complete the process.
Something went wrong
Sorry, there appears to be a temporary issue, please try again.